Introduction
During the course of your event, you may find it necessary to manually move an athlete from one race to another, or change the Registration Choice that was originally selected for the athlete. This brief guide will show you how to make these changes.
Changing Race/Reg Choice
Under the Athletes tab, search for the athlete you need to change.
Click on the blue Chrono ID next to the athlete needing the change.

Click the Race sub tab. Under the Race tab, you have to ability to change the athlete's race or registration option by clicking on the drop down boxes below: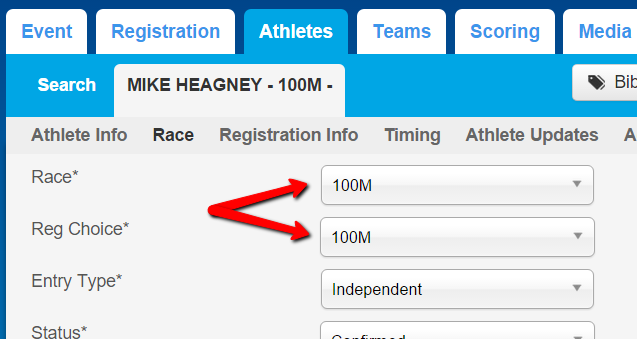 Always remember to click Save in order for changes to be made active.
If you are changing the Athlete's Race, you should also change their Reg Choice to reflect the change to the race to prevent data issues.
If there are tag reads for the athlete, they will automatically be recalculated after saving the change to their Race.