The Automated Registration Referral Tool incentivizes freshly registered athletes to earn a refund based on the number of friends who complete registration using their referral link.
Referral Tool Features:
Each reg choice can have unique referral goals and reward amounts
Rewards are only issued if athletes successfully meet the reward goal
Multiple tiers for your athletes create stackable rewards
Ability to monitor your event's progress with referral statistics
Initial Setup - Step By Step
Configure your registration pricing tiers if you haven't already. Referrals can only be added after this step:
Ensure that you are using CT Live 2.0:

Click on the Registration tab, then Referral Bonus:

Welcome to your Referral Dashboard where you can add referrals by clicking the + button, or track how many referrals and rewards have been distributed.
More info on tracking referrals can be found later in this article under "Monitoring Your Progress"

Time to setup your first Referral!

Reg Option - Choose a reg choice.
Goal - The number of athletes needed to register through a referral link before the reward is auto-refunded to the first athlete. If you are setting up multiple rewards for the same reg choice, this will be the total number of athletes needed to register using the referral before the second tier is unlocked.
Award - This is the amount of money to be refunded when the referral goal is met.
End Time - This is the cutoff when the referral bonus is no longer available.
Minimum Reg Amount - The Referral Tool can be used along with coupons and other promotions. The Minimum Reg Amount is the minimum net amount (i.e Price paid less coupons) that you want an athlete to end up paying for the event. This can prevent athletes from double-dipping and getting in for free or near free unless that is acceptable to you as the race director. Just set this value to be the "lowest you'll go." Can be set to make sure the event receives the minimum per athlete you need. $0 will essentially allow athletes to receive free registration. The system will not refund into the negatives.



Hit Save, then release your new Reg Form and you're ready to go!
Setting up Referral Tiers
Referral tiers are a way to set up multiple opportunities for athletes to be rewarded when their friends use their referral link.
Please see below image for an example:


In the above situation, once an athlete has a successful 5 referrals, they would receive an award of $5. If they then had an additional 5 successful referrals - making their total 10 referrals - they would receive an extra $10. In other words, they have helped you to gain 10 more athletes, and you have rewarded them with $15.
Monitoring Your Progress
View the referral statistics to see how influential your athletes are.
Links Generated - Total unique referral URL's created for that event
Total Athletes Registrants - # of athletes whose referral URL was used
Total Transactions - # of athletes who registered via someone's referral code
Referral Revenue - Dollar amount resulting from referred registrations
Total Refunds/Total Refunds Amount - # of refunds and their cost issued back to athletes
Return on Investment - Dollar amount of paid registrations via referral links less the auto refunds
Cost of Acquisition - Total amount of refunds issued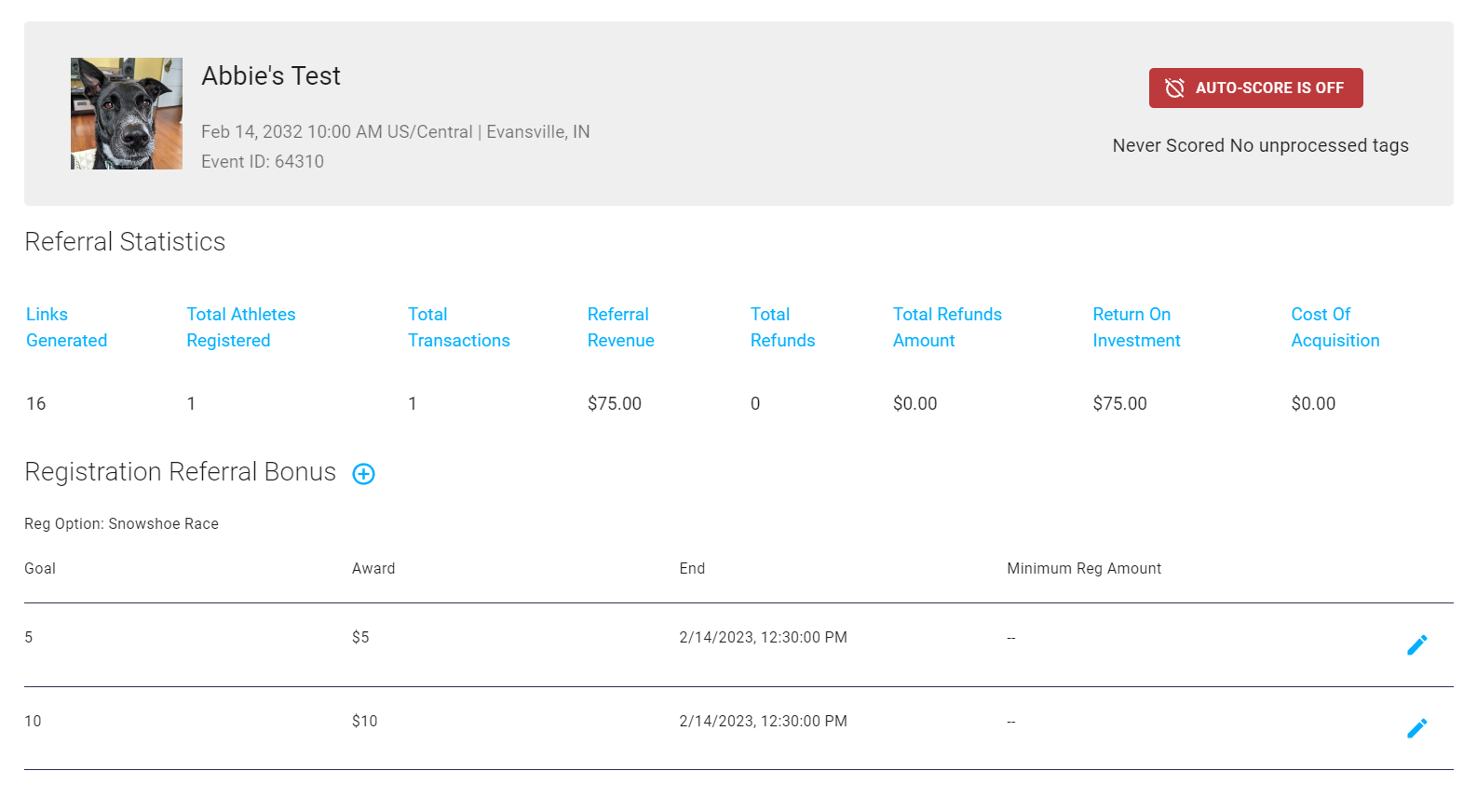 To view the athlete experience, please read THIS article.
Frequently Asked Questions
Q: Can I have multiple referrals for the same reg choice?
A: Yes, absolutely. You can create as many tiers as you would like. However, only the first tier will be presented to the athlete at the end of registration. We suggest that you take the extra step and promote your tiers with supplemental marketing campaigns or within the customizable confirmation email for each registration choice if it varies.
Q: Is there currently a way for athletes to check in and see how many athletes have used their referral link?
A: Currently not at this time.
Q: Can you retroactively associate an athlete's registration as a referred athlete to another athlete if the referral link was not initially used?
A: Not at this time.
Q: Can I turn on registration referrals for my event that is currently already live?
A:Yes, we suggest everyone use the tool! However, if the Referral Link was not enabled on the confirmation email, this will NOT apply to athletes that have already registered, as each unique referral link is generated during registration. Once referrals have been activated, you can send out a custom marketing email campaign to notify potential registrants of the promotion. Note: Be sure to include the referral link as a merge tag in the email.
Q: Do athletes have to do the same race as the person who referred them?
A: No, any race within your event for which they sign up will suffice.