Coupons and early-bird pricing tiers have been long-standing methods to help drive registration. Another tool now at your disposal is our Automated Registration Referral Tool.
Referrals work differently than coupons because instead of getting money off, Athletes can get money back! This fantastic product incentivizes freshly registered athletes to earn a refund based on the number of friends, acquaintances, or even complete strangers they convince to register.
Referral Tool Features:
Customizable Referrals per Reg Choice (i.e. Each Reg Choice can have unique Referral Goals and Reward Amounts)
Definable Referral Goal
Rewards are only issued if athletes successfully meet the reward goal
Stackable Rewards
Create multiple tiers for your Athletes
Tracking and Reporting
Initial Setup - Step By Step
Ensure you configure your Registration Pricing Tiers. Referrals can only be added after this step:
Ensure that you are using CT Live 2:

Navigate to your Registration Referrals by clicking on the Registration tab, then Referral Bonus:

Welcome to your Referral Dashboard where you can track how many Referrals & Rewards have been distributed. In order to Add a Referral Button Click the + Button
Time to setup your first Referral!

Reg Option - Pick your Reg Choice. You can have multiple Referral on the same Reg Choice
Goal - The number of Athletes needed to register before the Reward is auto-refunded. If you are setting up multiple Rewards for the same Reg Choice, this will be the total number of Athletes need to register before the second tier is unlocked.
Award - This is the amount of money to be refunded when the Referral Goal is met
End Time - This is the cutoff of when the Referral Bonus is no longer available
Minimum Reg Amount - We built the Referral Tool so that it can be used along with coupons and other promotions. This minimum Reg Amount is the Minimum Net Amount (i.e Price paid less coupons and less any auto referral bonuses) that you want an Athlete to end up paying for the event. This can prevent Athletes from double-dipping and getting in for free or near free unless that is acceptable to you as the race director. Just set this value to be the "lowest you'll go."

Hit Save, then release your new Reg Form and you're ready to go!
The Athlete Experience
We built the Registration Referral Tool so that it is easy to set up, customizable, and most importantly, feels natural for Athletes to invite their friends and grow your Event.
Here's the Athlete Experience:
Initial Athlete Finishes Registration - The Athlete is presented with their Reward Tier explaining the dollar Reward amount and the number of Athletes it takes to receive the refund. We place it at the end of Registration and also in the Confirmation Email. Note, if there are multiple rewards, only the first will be presented.
In-Browser

Confirmation Email
Share link Behavior:
The link from the webpage can be copied and pasted into whatever medium that Athlete desires
The Share to Facebook link will navigate the User to Facebook with a default post.
The Invite Friends link will create a New Email that can be sent to friends
New Athletes follow their friend's referral link and register for the Event!
After the Reward Tier Goal has been satisfied and X out of X Athletes have registered with a referral link, an email will automatically be sent to the deserving athlete. The Email notifies them that they have been issued a Reward Refund, and encourages them to invite more friends.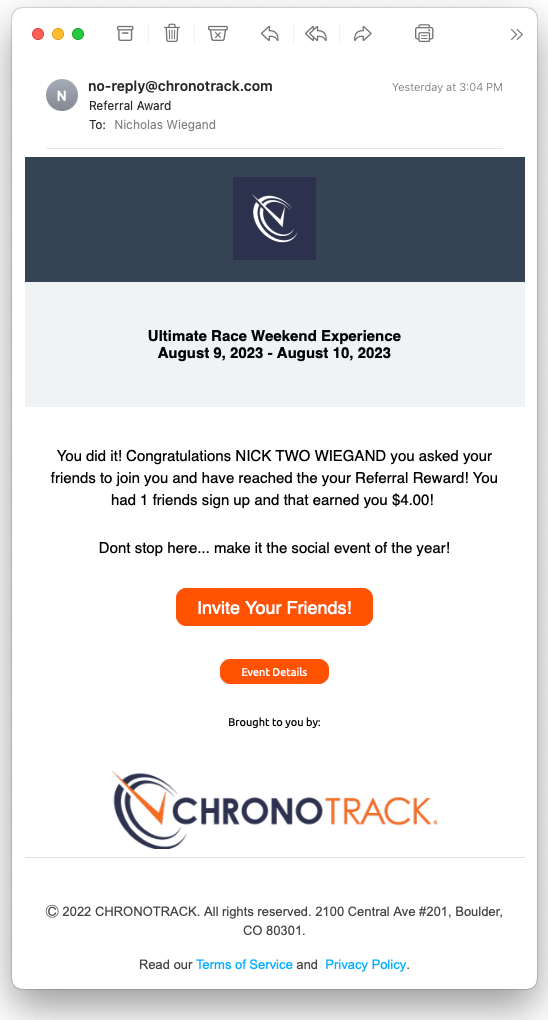 Monitoring Your Progress
We wanted to make sure that monitoring the success of your Referral Rewards is simple. There is a built-in Dashboard where you can see just how influential your Athletes are.
Total Links - Total unique referral URL's created for that event
Total Registrants - # of Athletes whose referral URL was used
Total Registrations - Total # of Athletes who registered via someone's referral code
Total Registration Amount - Dollar amount resulting from referred registrations
Total Refunds/Refunds Amount - Defines total # of refunds and their cost issued back to athletes
Total Return on Investment - Total $ of paid registrations via referral links less the auto refunds
Cost of Acquisition - Total of Refunds issued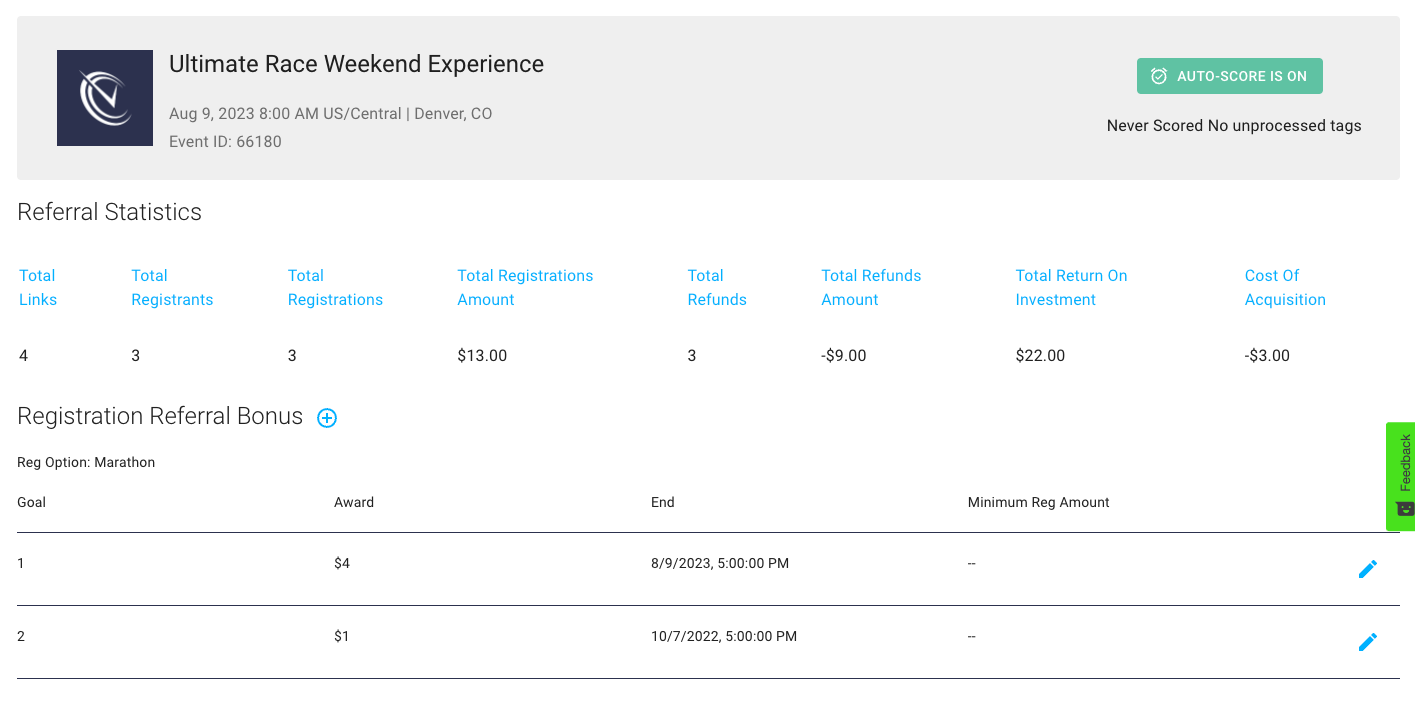 Frequently Asked Questions
Q: Can I have multiple Referrals for the same Reg Choice?
A: Yes, absolutely. You can create as many tiers as you would like. However, only the first tier will be presented to the Athlete at the end of Registration. We suggest that you take the extra step and promote your tiers with supplemental marketing campaigns or within the customizable confirmation email for each registration choice if it varies.
Q: Is there currently a way for Athletes to check in and see how many Athletes have used their Referral link
A: Currently not at this time.
Q: Can you retroactively associate an Athlete's registration as a Referred Athlete to another Athlete if the Referral Link was not initially used?
A: Not at this time.
Q: Can I turn on Registration Referrals for my Event that is currently already live?
A: Yes, we suggest everyone use the tool! Simply activate the feature, and send out a custom marketing Email campaign to notify existing Athletes of the promotion. Note: Be sure to include the Referral Link as a Merge Tag in the Email.
Q: Do athletes have to do the same race as the person who referred them?
A: No, any race within your event for which they sign up will suffice.