Introduction
This brief guide will walk you through the process of setting up a Registration Choice. Before we begin, let's clarify the difference between a Race and a Registration Choice.
Races are defined as the actual, separate distances that get scored individually.
Example: You are having both a Half Marathon and Half Marathon Relay at your event. While both of these are the same distance, if you want to have the results of each of these scored and shown separately, you would create them as separate races.
Registration Choices are the different registration options available for the races within your event. Multiple Registration Choices may exist for the same Race with differences in price, team policy, etc. The names of these Choices are what is displayed on the first screen of the registration form.
Once your races are set up, there will automatically be a corresponding registration choice created for each race. If you need to edit the registration choice title, open and close dates, maximum entrants, you can do so by clicking the Edit button next to each choice.
The process below represents the most basic registration choice setup and does not include Team elements, Lottery settings, and some features of Reg Classes. For more on any of these topics, click the blue linked words above.
IMPORTANT!!! It's crucial that you work closely with your Timer when setting up registration since some aspects of registration may directly influence how your participants get scored.
Adding a New Registration Choice
If you want to add another registration choice for participants to choose from, you can do that very easily under the Choices tab.
First, click on the +Add Registration Choice tab.

Select the Race(s) with which the Registration Choice will be associated. You may choose to have a Registration Choice map to multiple races at the same time.


Setting a Registration Choice to map athletes to multiple Races will create duplicate entries in your event and may lead to problems down the road. Do not associate a single Registration Choice to the same Race unless you know what you are doing.

When adding a registration choice, you can set a Min Age and Max Age for that registration choice if you would like to limit the demographics that can register using a particular Registration Choice. (Senior Discount, College Student, etc)

If teams have been enabled for one of your Races and you are allowing teams for this registration choice, you can select if you want the teams to be Relay or Aggregate.


Please consult with your Timer prior to determining these settings. Selecting the wrong team settings may complicate things later on.

Specify the Registration Choice Open Time and Registration Choice Close Time. The Open Time defaults to the date the event was created unless otherwise specified.
You can check the Hide Reg Choice Until Start box so that the Registration Choice will be completely hidden from the Online and On-Site forms until the Start Date. Leaving this option unchecked will display the Reg Choice message until Open Time field which allows you to enter a custom message to be displayed until the Reg Choice Start Date. The default message is "(Registration option closed)". The custom message you enter can be up to 33 characters.
Enter a number of Max Entrants that will be allowed to enter the Event using this Registration Choice. If you enter a number of Max Entrants, the registration choice will close as soon as the limit has been reached.
Next, choose whether or not to Enable Extended Registration. This option allows you to generate coupon codes that allow athletes to register for a specific choice after its Max Entrants limit has been reached. For more on this, click HERE.
Now, select the Pricing Tier Type. This will determine when pricing tiers change. For more on this, click HERE.
Finally, select a Reg Class if you would like to sort the Reg Choice into a Class you have previously set up in the My Orgs page. For more information on using Reg Classes, click HERE.
When finished, click Save & Close.
You must release a new Registration Form before the new Choice will show up in the registration process.
Once you've created the Registration choice, you can move on to Setting up Pricing
Post-Creation Options
After you've created a Registration Choice, you can Edit it at any time. When editing a Reg Choice, there are a few new options available: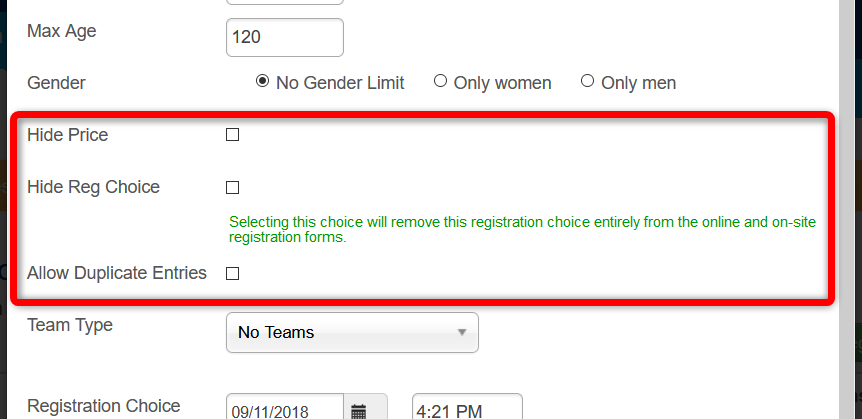 Hide Price keeps the price of registration from appearing on the Reg Choice selection screen. Price will still appear in the running total as the athlete progresses through the form.
Hide Reg Choice can be used to immediately remove a Reg Choice from the Registration Form, regardless of Max Entrants or Close Time settings.
Allow Duplicate Entries permits athletes who have already registered for the event with this Registration Choice to register again. By default, duplicate entries are only allowed if the existing entry in CT Live has a Status other than Confirmed or Pending.
You can have up to 10 registration choices. If you need to have more than 10, contact esupport@chronotrack.com (US) or eusupport@chronotrack.eu (EU)