Introduction
The Custom Fees feature of ChronoTrack Live allows you to apply an extra fee to all or some new athlete registrations for things such as product shipping, state-mandated sales tax, or really anything else.
Enabling Custom Fees
You can enable Custom Fees as part of the Event creation process when selecting CT Live services, or after you've created the event by editing the Other section of Event Properties.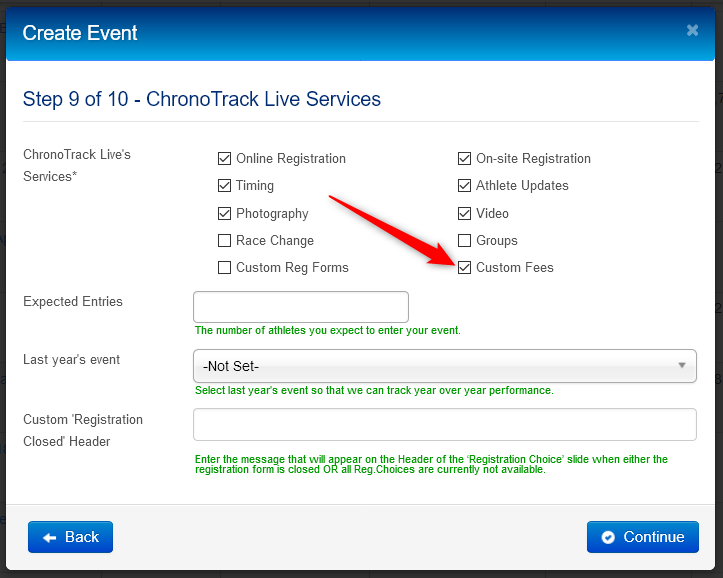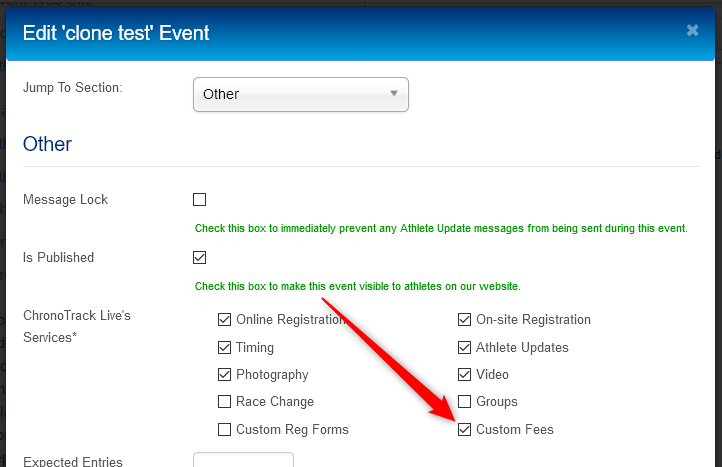 Adding a Custom Fee
Once Custom Fees are enabled for your Event, navigate to the Registration tab and click the More dropdown to reveal the additional options, then select Custom Fees.

Once there, select + Add New Custom Fee

In the window that appears, enter a Fee Name that will appear within the Registration Form.
Define a Report Label to display in reports.
If you are charging a Flat Fee, enter the amount (The amount will use the currency type you defined when creating the event)
If you are charging a Percentage of the entire Registration amount, enter the percentage.
If you would like to limit the fee to a specific Reg Choice, select which Reg Choices the fee will apply to. Selecting this option will apply this fee to ANY type of registration using the defined Registration Choices.

If you would like to apply the Fee for only certain Custom Products, specify which product(s).
If you would like to apply the Fee to the default Donation question (Registration > Donation tab), select the All checkbox.
Finally, specify if the fee will be paid by the athlete or used for Reporting Only.

Click Save & Close when finished. The Custom Fee will appear in summary as shown below.
Remember to release a new Registration Form version after adding, editing, or removing a Custom Fee.
You can edit or remove a Custom Fee at any time.