Introduction
You can use the background images and logos that ChronoTrack Live uses by default, or you can create your own custom graphics to reflect your Web Site or provide marketable advertising space to sponsors and local businesses.
You can view and upload images from the Registration > Graphics tab.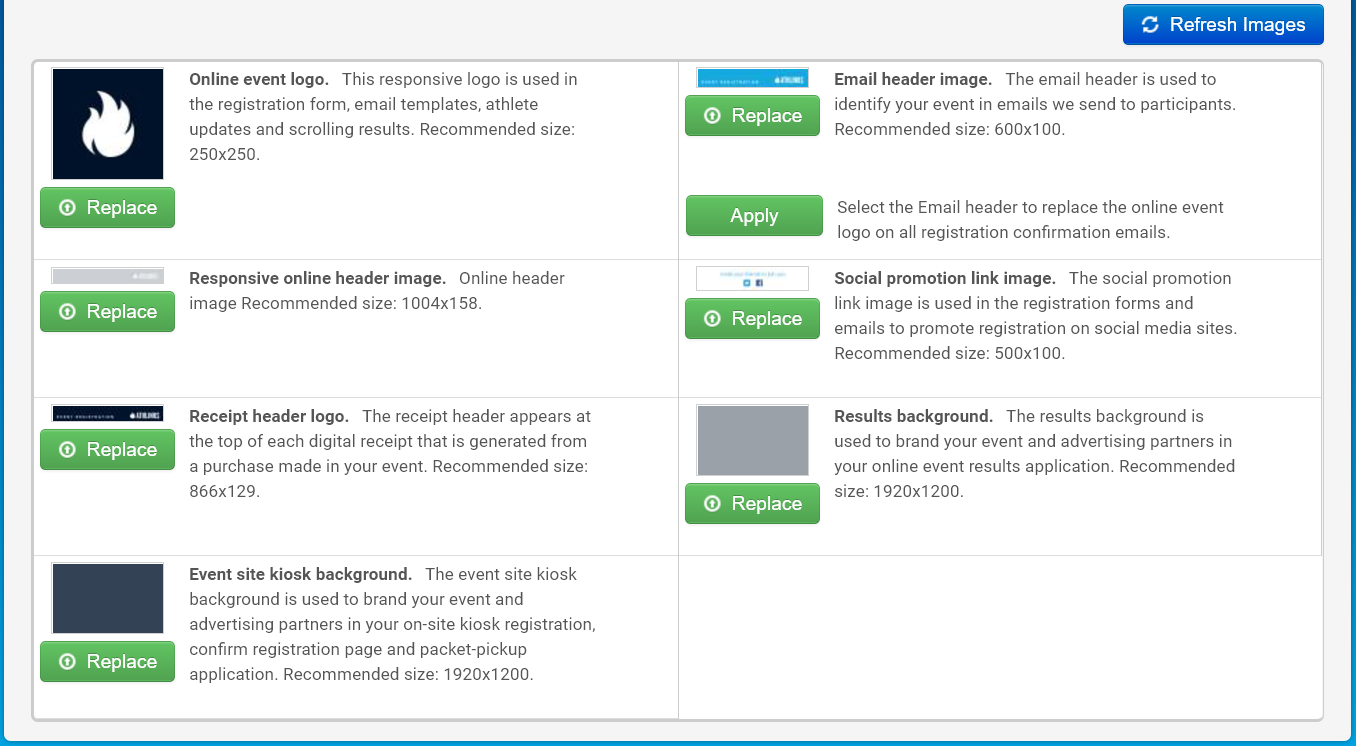 Editing the Graphics
Image template downloads for each of the background images and the responsive header image can be found at the end of this article in the Downloads section.
The Editable Graphics are:
Online Event Logo - Online event logo Recommended size: 250x250.
Email Header Image - The email header is used to identify your event in emails we send to participants. Recommended size: 600x100. Please note that you must click Apply in order for your custom image to supersede all registration confirmation e-mails.
Responsive Online Header Image - Online header image Recommended size: 994x154.


The recommended size currently listed in CT Live is 1004x158. This recommendation is incorrect and will be fixed shortly.

Social Promotion Link Image - The social promotion link image is used in the registration forms and emails to promote registration on social media sites. Recommended size: 500x100.
Receipt Header Logo - this is an image that appears at the top of every digital receipt for Athlete registrations. Recommended size: 866x129.
Results Background - The results background is used to brand your event and advertising partners in your online event results application. Recommended size: 1920x1200.
Event Site Kiosk Background - The event site kiosk background is used to brand your event and advertising partners in your on-site kiosk registration and packet-pickup application. Recommended size: 1920x1200.
Most of these images can be replaced with images of the correct size without any special considerations as to spacing.
The Web Registration Background, Results Background, Event Site Kiosk Background, and Online Header Image however require special attention. Because of the possibility of different screen sizes and browser zoom levels, logos placed in background images may not appear or will appear cut off.
Don't be afraid to market the spaces that may not appear at a cheaper price. With the proliferation of 1080p displays, odds are the side real-estate will display well.
Custom Graphic Examples