Introduction
Once you have created a Registration Choice or edited the existing choice, you can add pricing for that registration option. Remember to make sure you've selected the correct Pricing Tier Type in the Registration Choice. To do this, click Edit next to the Reg Choice to view/change the Tier Type.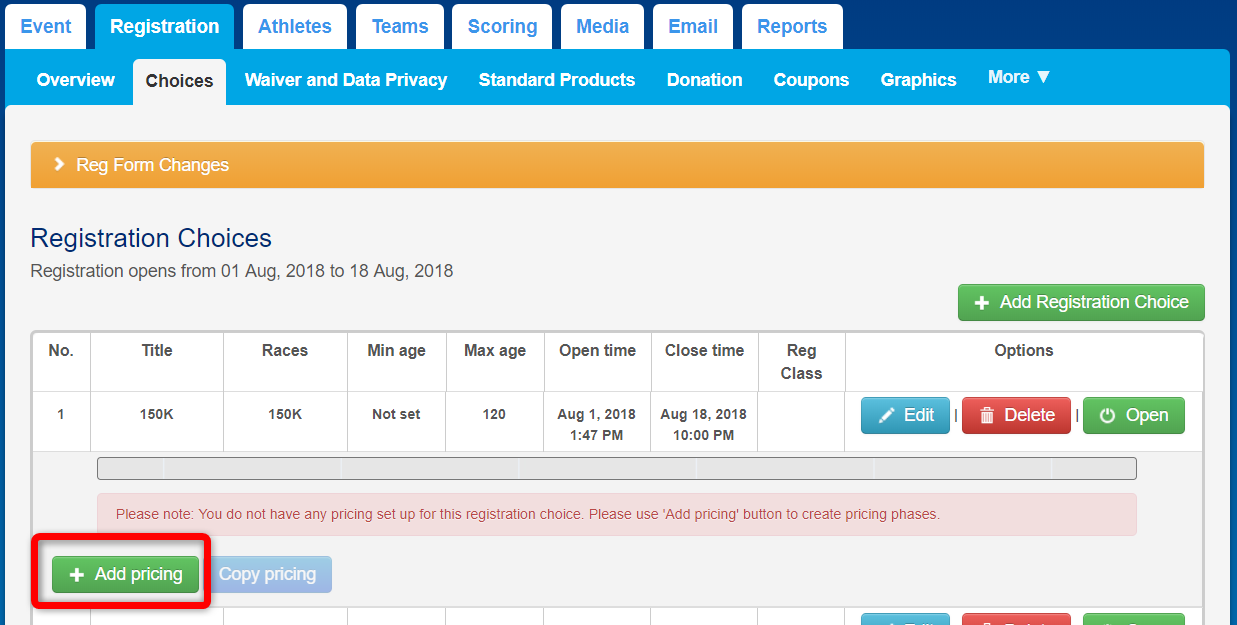 Adding Pricing
Click + Add Pricing
Enter a Title for the pricing choice. The athletes will not see this Title.
Select From and To Dates.
- OR - 
Enter the Max Entry Cutoff for the pricing tier if you selected Number of Registrants as the Pricing Tier Type when you made/edited the Registration Choice. 

Enter a numerical value for the Price. This value will be attributed to whichever currency was selected when the Payee was set up.
To add another pricing tier, simply repeat this process. For date ranges, the From field will automatically be filled with the previous pricing choice's To date. Remember that pricing tiers may not overlap.
For Number of Registrants pricing tiers, each tier must take into account the total number of entries. For example, if my first 50 registrants get one price, and my next 100 get another price, the Max Entry Cutoff for my second tier should be 150, NOT 100.
Below is an example of a registration choice with a 3-tiered pricing structure, based on Date of Registration.


Here is an example of a two-tiered pricing choice set up by Number of Registrants:


To copy pricing from one Registration Choice to another, click Copy Pricing and then select which choice(s) to copy it to, then click Copy.
Note: To copy pricing from one registration choice to another, the events must have the same registration close date and time. The Choice to receive the copied pricing must not have any pricing set at the time of the copy.
To Edit, Delete, or Open/Close a registration choice, use the buttons next to the Registration Choice information.